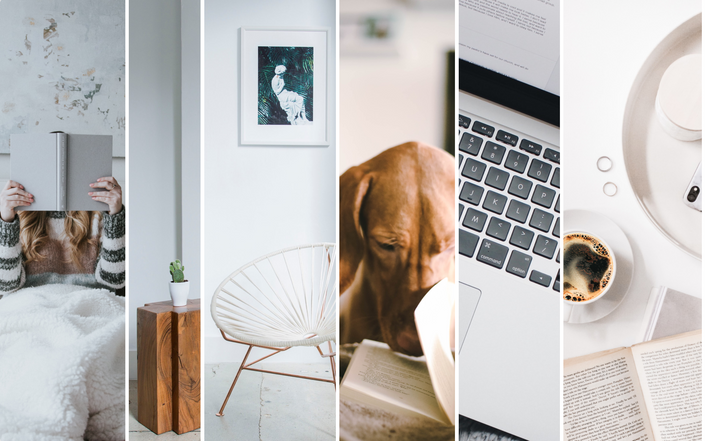 The 4-Part System to Define & Attract Your Target Audience
Attract your ideal readers, create a powerful author brand, and foster reader engagement.
Enroll in Course
Do you want to know what 99% of authors are missing out on?
It's the correct answer to the following question: who is my target audience?
It sounds simple, but defining your target audience is probably one of the most difficult and overlooked aspects of your book marketing strategy.

It's not enough to just simply describe your readers: their age, gender, interests, lifestyle, and so on. You need to be able to empathize effectively with your audience – identify with the feelings, thoughts, or attitudes of your readers.
You also need to differentiate yourself and your work from other writers, making it crystal clear not only what you have to offer, but why it should matter to your readers.
This requires much deeper reader insight.

The more you know about your readers, the more effective your sales and marketing efforts will be.
But defining your target audience is much easier said than done.
Many writers end up skipping this step because they fail to recognize its importance in their book marketing plans.
But the truth is, identifying and understanding the wants, needs, and desires of your ideal readership can "make or break" your marketing strategy.
Without a solid grasp of what makes your readers tick – and what they are really searching for – you will waste a considerable amount of time and energy promoting your work to an indifferent market.
Or worse, you'll begin to receive pushback or negative reviews from people that your book was never written for in the first place.
You could confidently say, "I know exactly who my ideal readers are, and my writing is tailored specifically to captivate and engage them."
Your writing could elicit a range of emotions in your readers, captivating them from the first page to the last, and leaving a lasting impact on their lives.
Your readers were not just passive consumers but active participants, eagerly engaging with your work, and championing it to others.
You could implement marketing strategies that consistently attract your ideal readers, gain visibility in your genre, and propel your career forward.
Your writing career blossomed into a successful business, enabling you to live your passion, reach a wider audience, and make a lasting impact with your words.
Here's the good news...
I've created a step-by-step framework to help you do all of this and more.
You will learn proven strategies and techniques to attract your ideal readers, create a powerful author brand, and foster sustained reader engagement.
This course empowers authors to cultivate a passionate following that eagerly anticipates their books and supports their writing journey.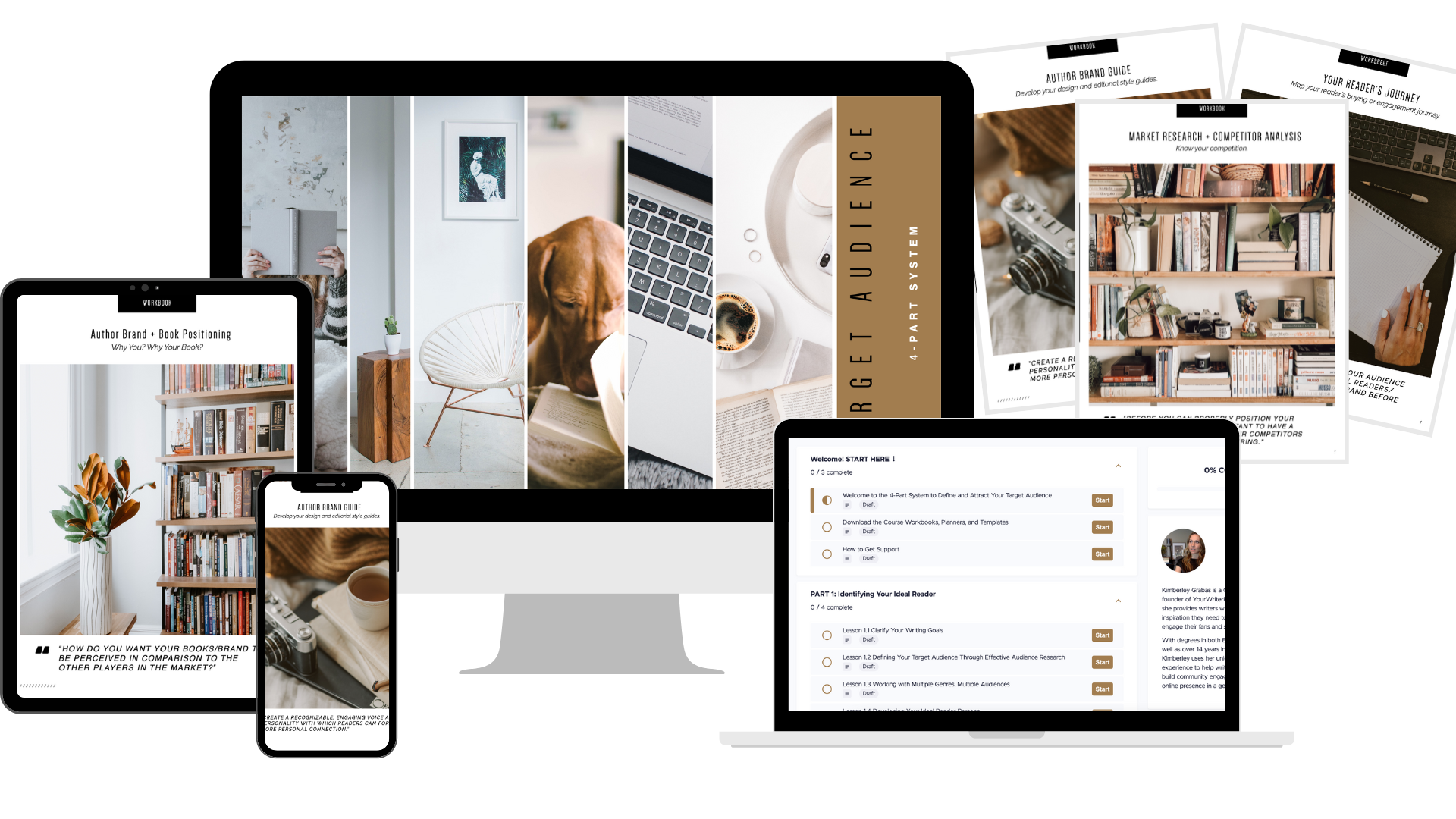 We're going to identify who will benefit most from what you offer, dive deep into the way they think and what makes them tick, clarify why you are the one to give them what they want, and identify ways to build strong, engaged relationships to keep them coming back for more.
Whether you write sci-fi or romance, fiction or nonfiction, or even if you offer additional services, workshops, author trainings – or any number of other products or services – appealing to the right people is the cornerstone of an effective author business strategy.
Doing the research before you create the content, before you write the book, before you start the blog, before you run the ad, makes you stronger, more informed, and better equipped to serve your readers in the best way possible.
The key is to define your audience in a meaningful way, so that the way you define these folks leads you to creative ways to get your books and other offerings in front of them with words and images that resonate.
Why defining your target audience is a key part of a successful marketing strategy.
Defining your target audience makes it possible to:
align your author brand and business goals with readers' needs
develop marketing and branded content that is easier to implement and much more effective
solidify your brand and the position it holds in the minds of your readers
build relationships by developing messaging that truly resonates (which, of course, only works when you know who you serve)
This is true for both fiction and nonfiction authors.
And agents and traditional publishers will also want you to know who your audience is, your allure to that particular group, and how you plan on connecting with them.
That's why understanding the people who experience the problem you solve – or the desire you fill – is without a doubt one of the most critical tasks you need to address to get any real traction in your writing career.
After working one-on-one with authors for years, I've seen a multitude of obstacles authors face when it comes to defining and building their ideal readership.
So, if you are...
Struggling to clearly identify who your ideal readers are. (Without a defined target audience, it's challenging to tailor your writing, marketing efforts, and messaging effectively.)
Finding it difficult to establish a genuine and emotional connection with your readers. (You feel your work isn't resonating or evoking the desired response from your audience.
Experiencing fluctuations in reader engagement, leading to inconsistent book sales, reviews, and feedback. (You desire sustained and enthusiastic engagement from your readership.)
Wasting time, energy, and resources on ineffective marketing strategies (that fail to reach and engage your ideal readers.)
Or struggling to define and establish a unique brand identity that aligns with your writing style and appeals to your target audience. (This lack of clarity can hinder your ability to attract and retain loyal readers.)
Then The 4-Part System to Define & Attract Your Target Audience is precisely the course you need to overcome these pain points and reach your desired outcomes.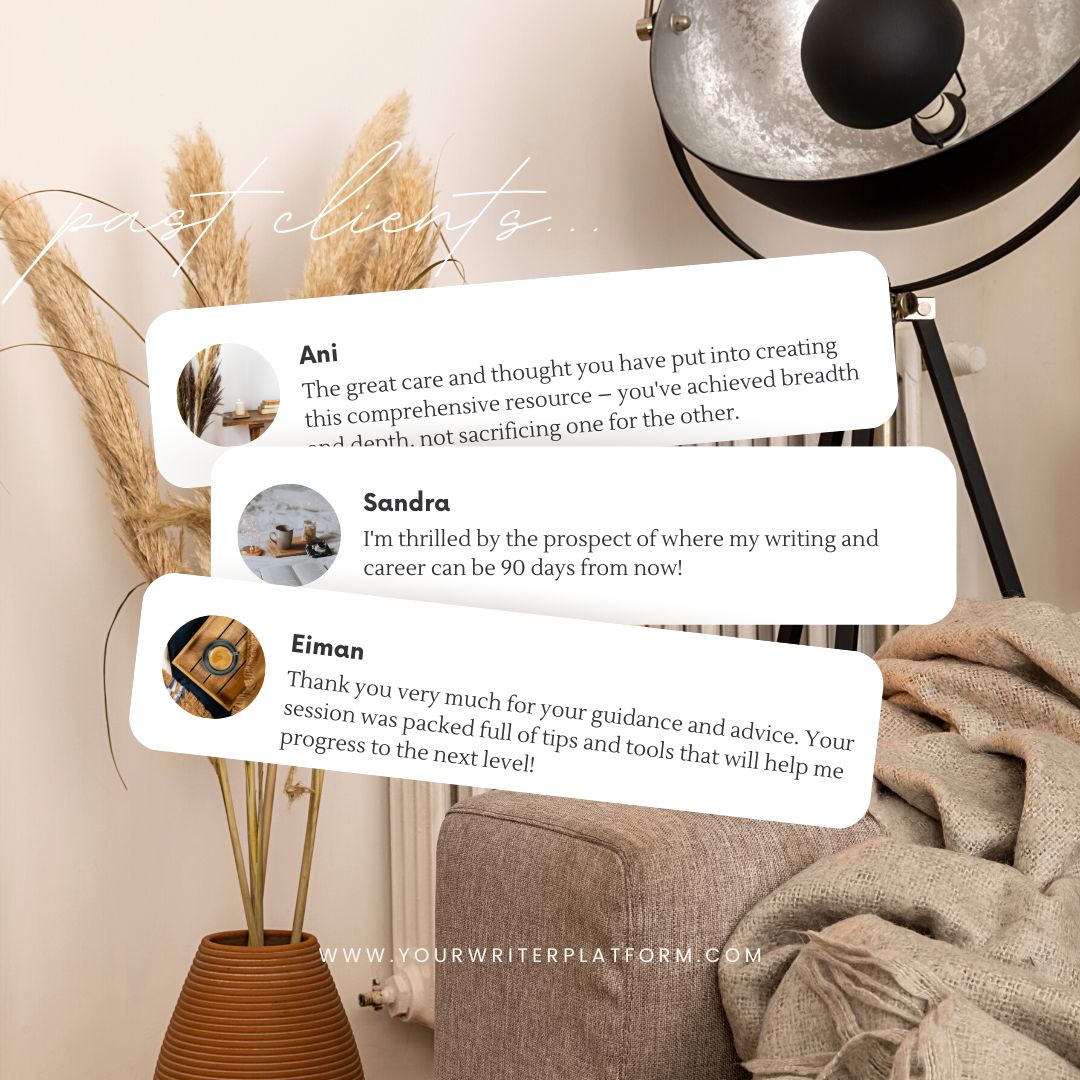 Just imagine how good it would feel to…
have a crystal-clear understanding of your ideal readership, including their demographics, preferences, interests, and motivations (know precisely who you are writing for).
establish an intimate and meaningful connection with your readers (evoke emotions, create memorable experiences, and foster a sense of loyalty and devotion among your audience).
earn sustained and consistent engagement from your readership, resulting in increased book sales, positive reviews, and an enthusiastic following eager for your next release.
implement targeted and effective marketing strategies that resonate with your target audience (optimize your promotional efforts to reach and engage your 'right' readers).
develop a compelling and unique brand identity that encapsulates your writing style, values, and story (a brand that attracts and retains your ideal readers, establishing a long-lasting relationship).
It's time to tap into why you decided to be an author in the first place!
Before you can start attracting 'the right' people to you, you need to clarify your overall marketing and business goals for your writing:
are they to give something to, or have an impact on the world?
to change people's lives through your work?
position yourself more strategically in your industry or achieve a higher status or recognition in your field?
simply to earn a liveable income with your writing?
Once you're clear on your own objectives, it will be much easier to define and attract those people who will help you meet them.
Through expert guidance, proven strategies, and practical exercises, this course will equip you with the knowledge and tools to define your target audience with precision, connect deeply with your own goals (as well as your readers'), and build a loyal following that resonates with your work.
Your days of googl-ing your way to success are done because you'll find EVERYTHING you need inside…
I've designed this 4-part system to walk you through each step and make it much easier to define and attract your ideal readers.
Here's a look inside the program...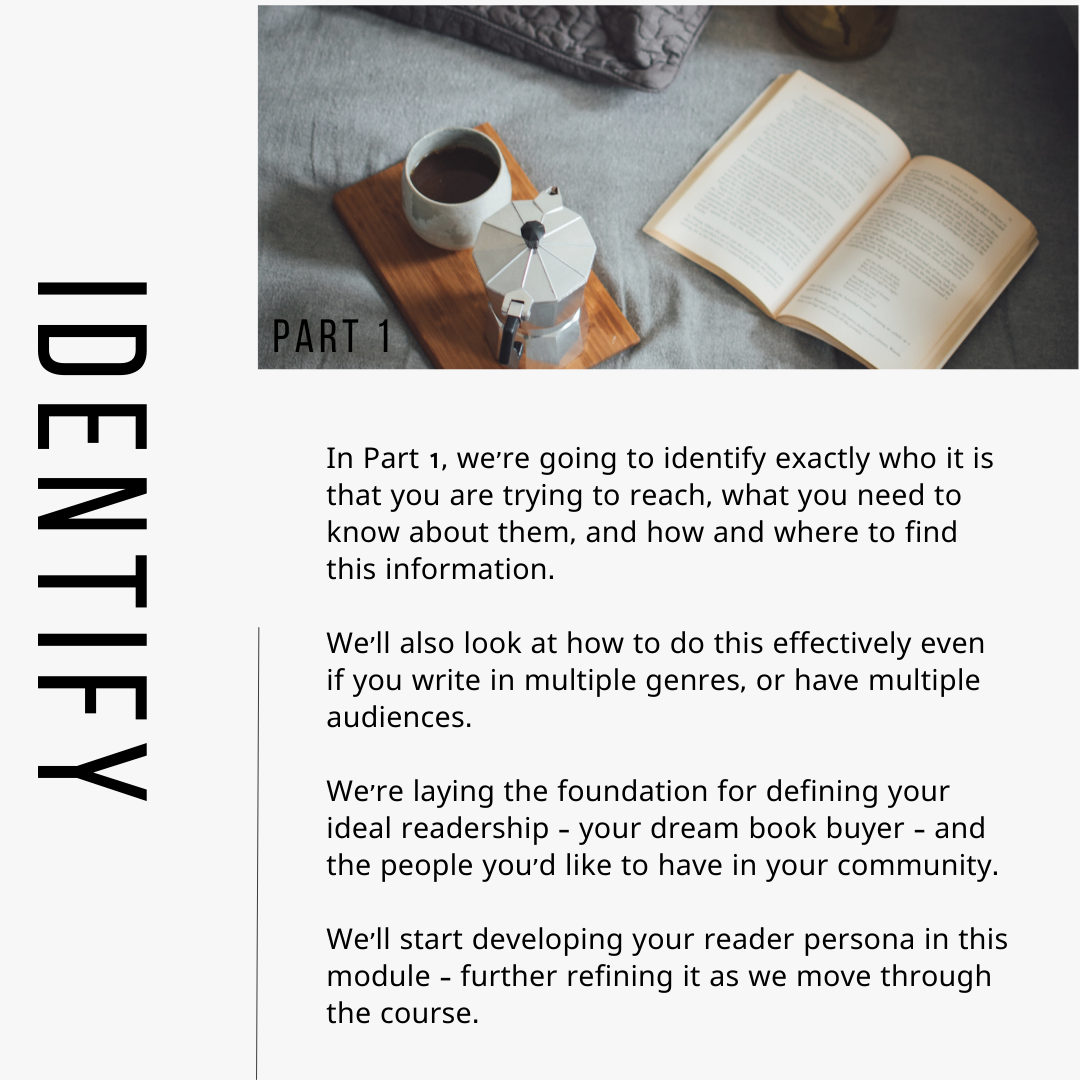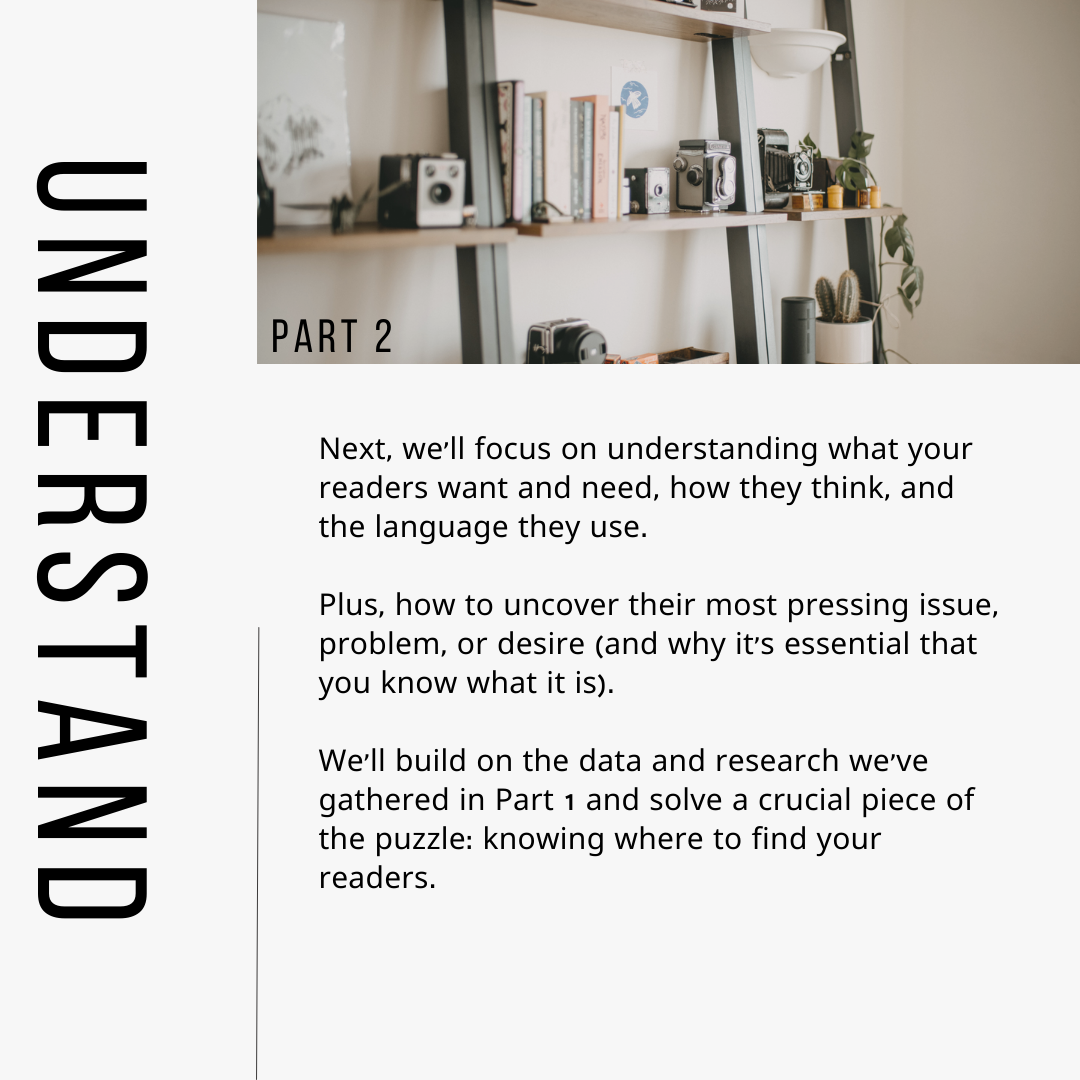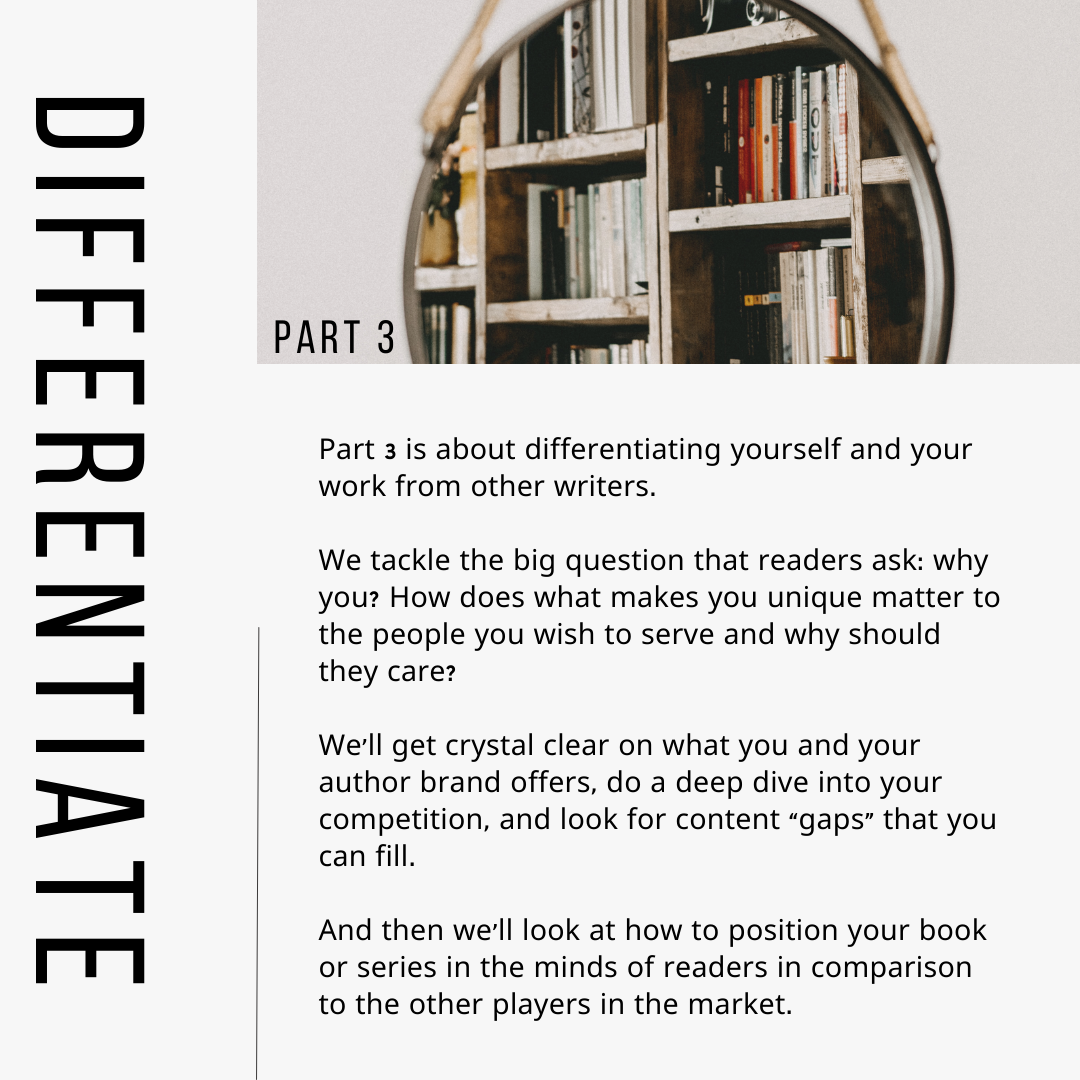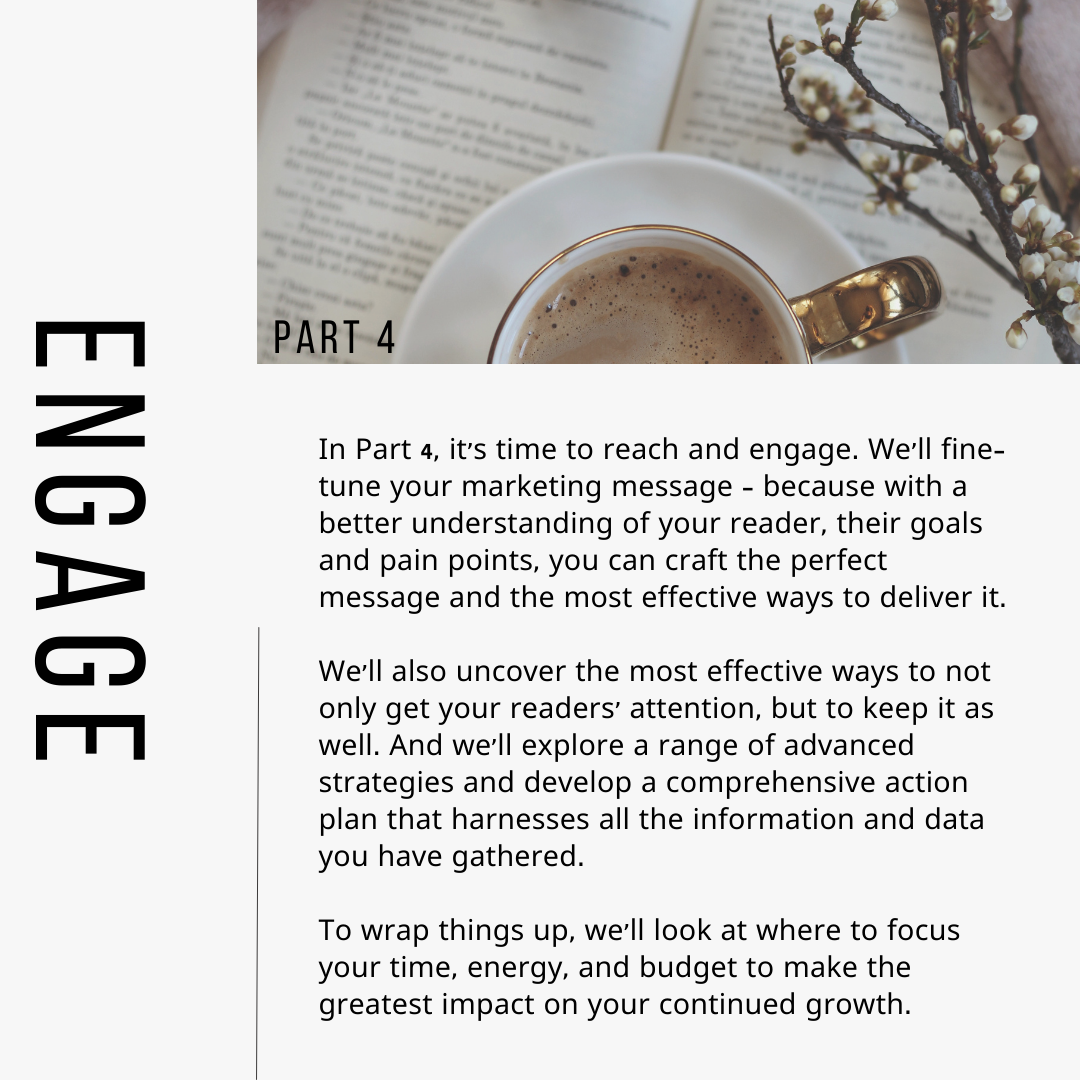 With the 4-Part System to Define & Attract Your Target Audience, you get...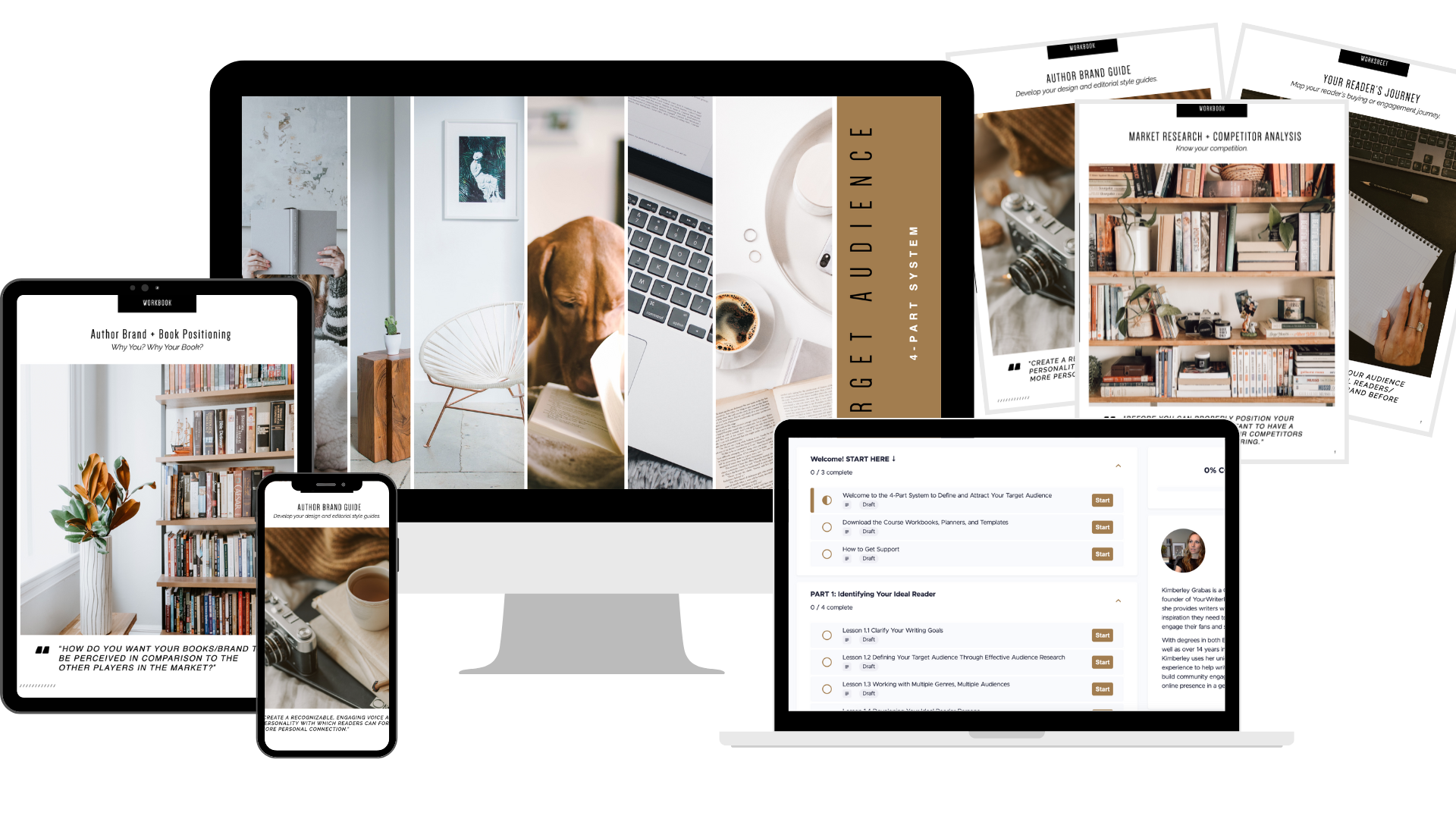 Actionable Tutorials and Video Lessons
No more guessing about what to do next! Get a step-by-step, easy-to-follow roadmap given to you in organized video lessons and tutorials.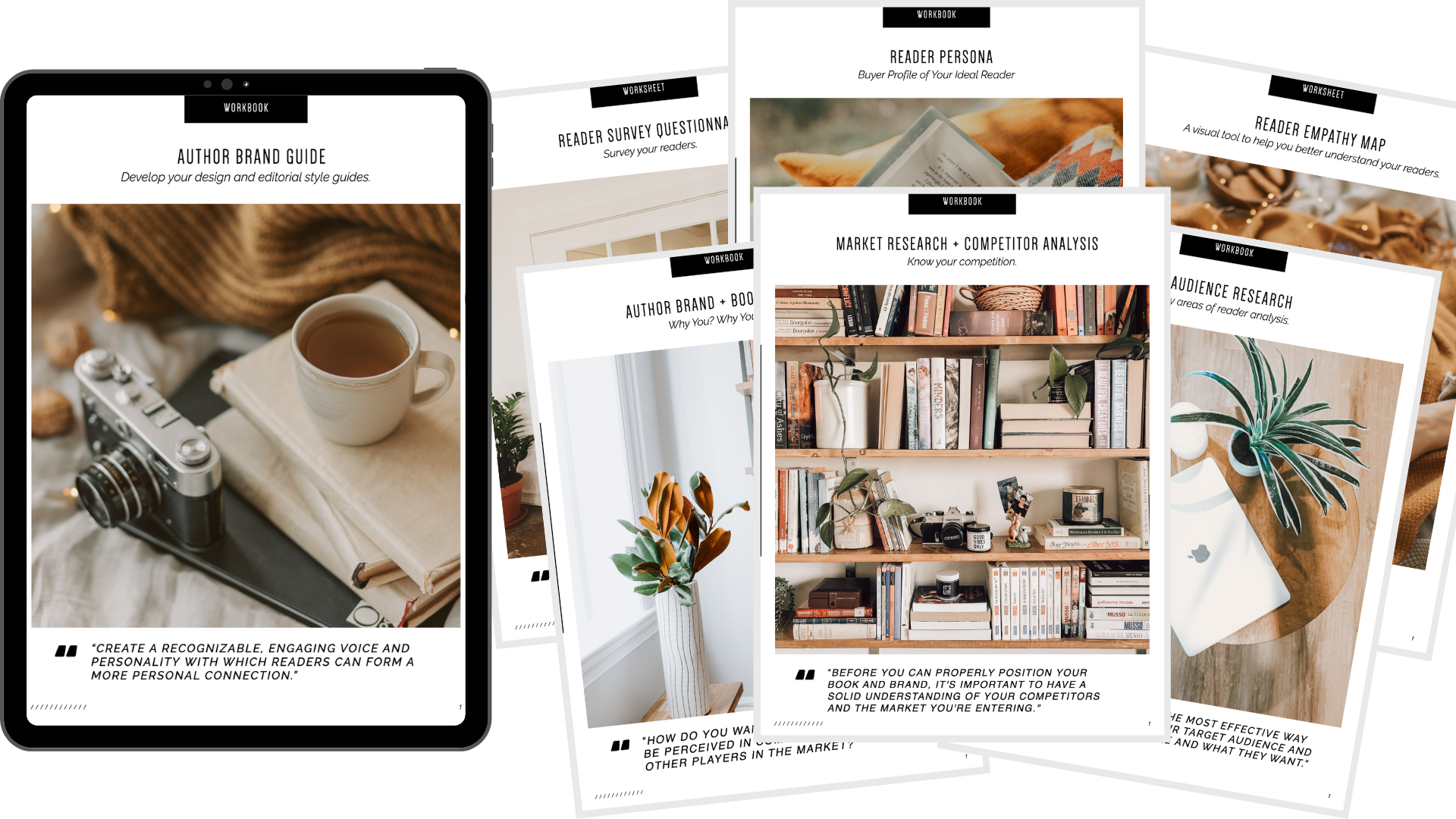 Templates, Workbooks, and Action Sheets
You'll receive 10+ actionable templates and guided worksheets, plus supportive bonus materials so you feel confident implementing what you learn to attract your ideal readers.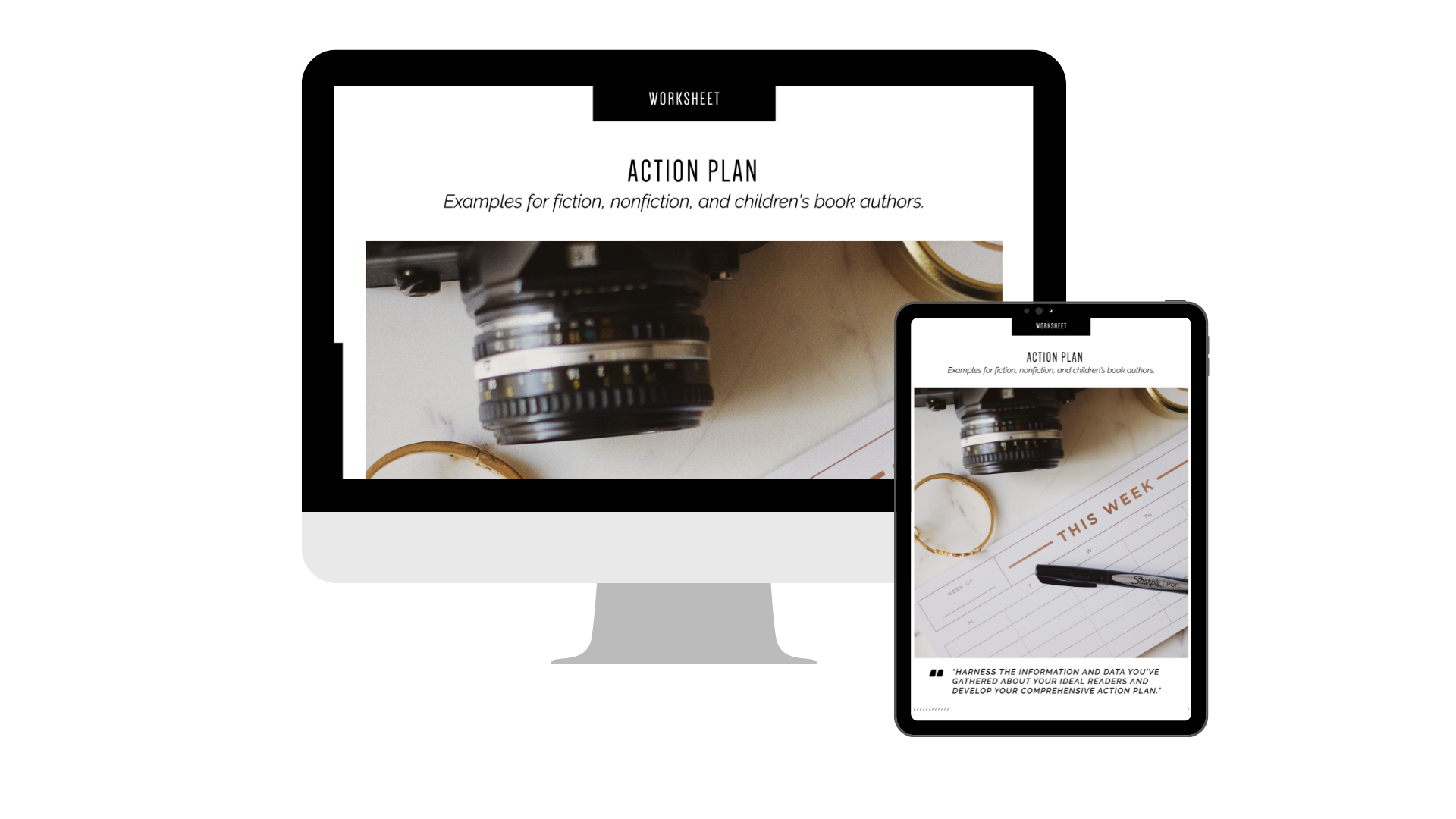 Next-Level Strategy
These advanced audience-building, branding, and marketing strategies will give you the skills, resources, and tools you need to grow your readership and effectively engage your community.
Excited? Well, hold on because you're also going to get these amazing bonuses…
When you enrol today, you get these special bonuses to support your journey: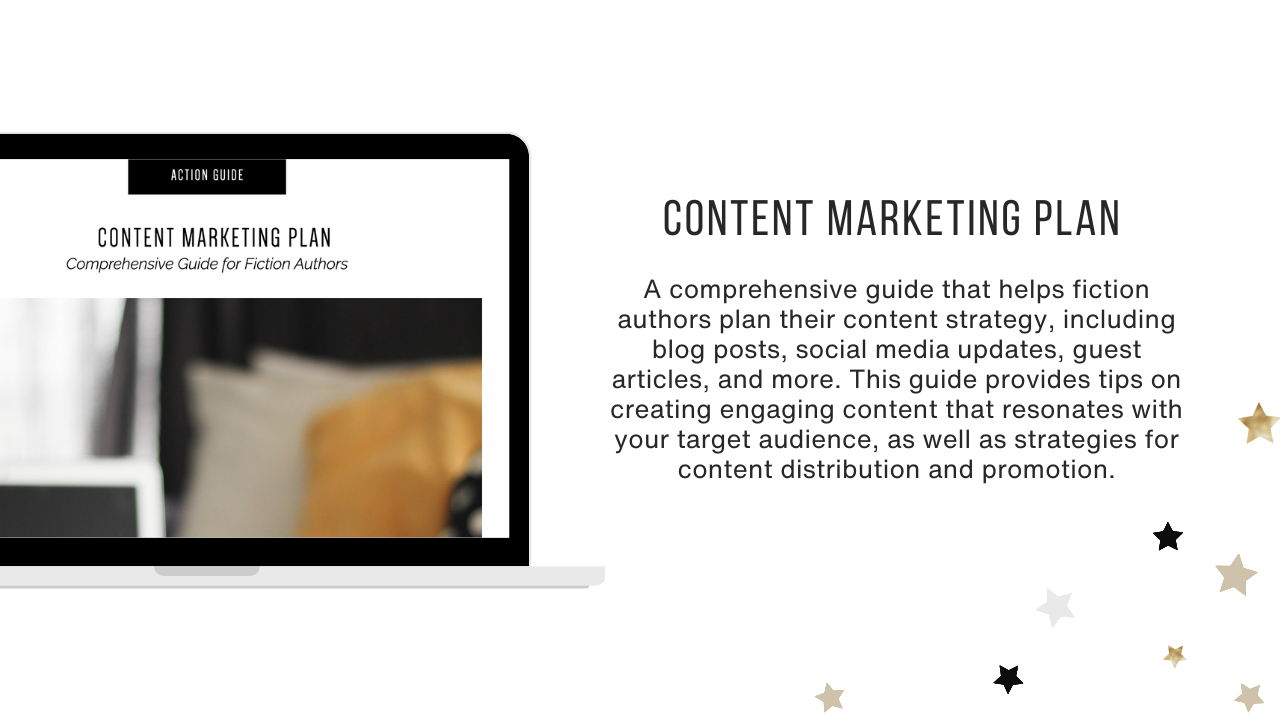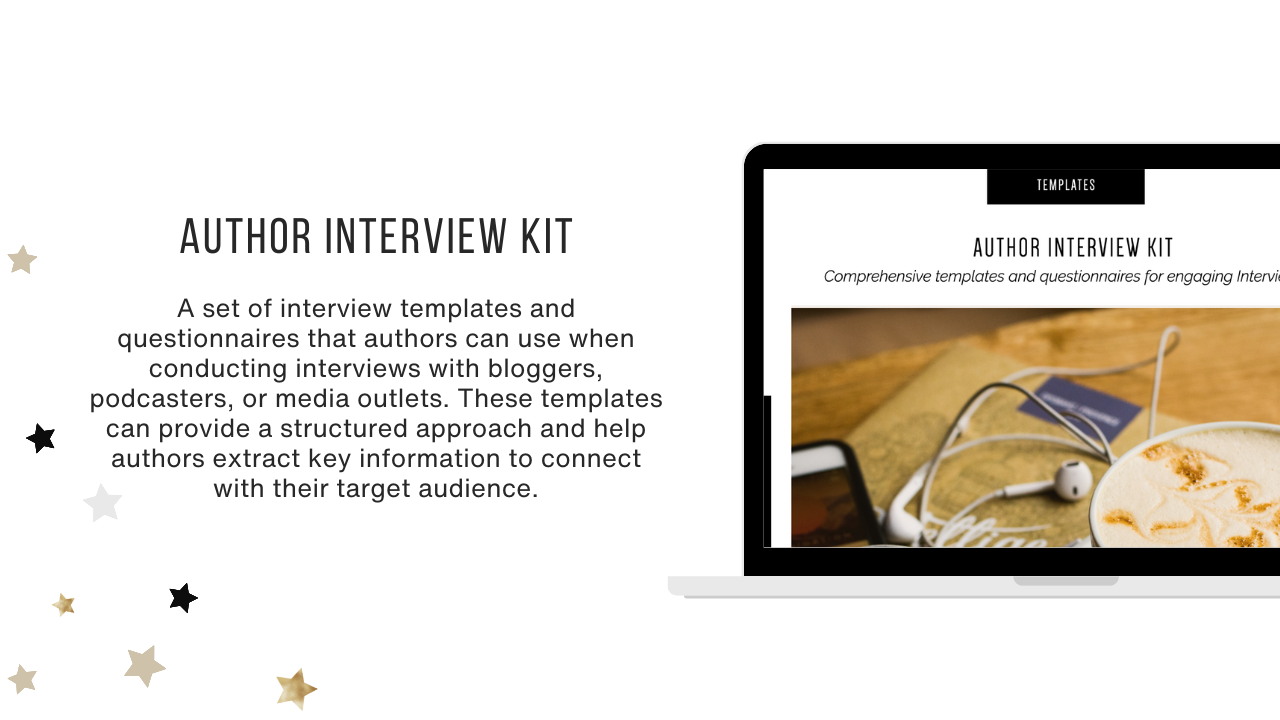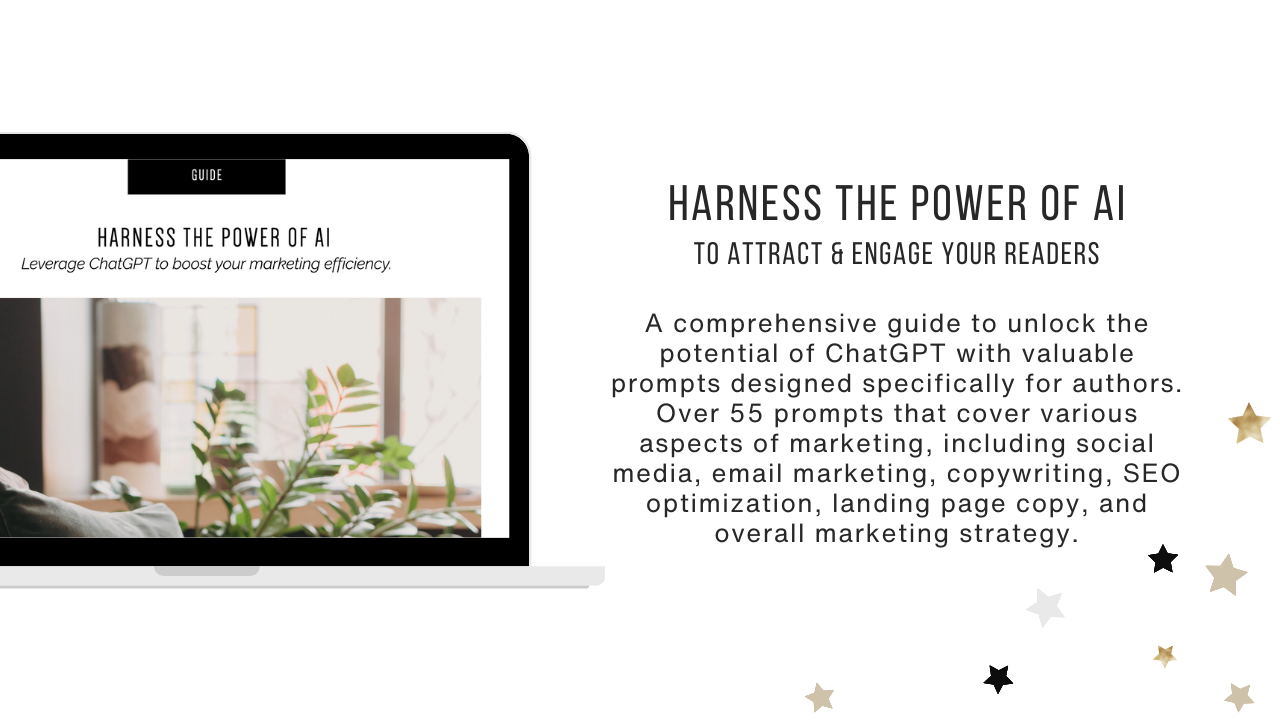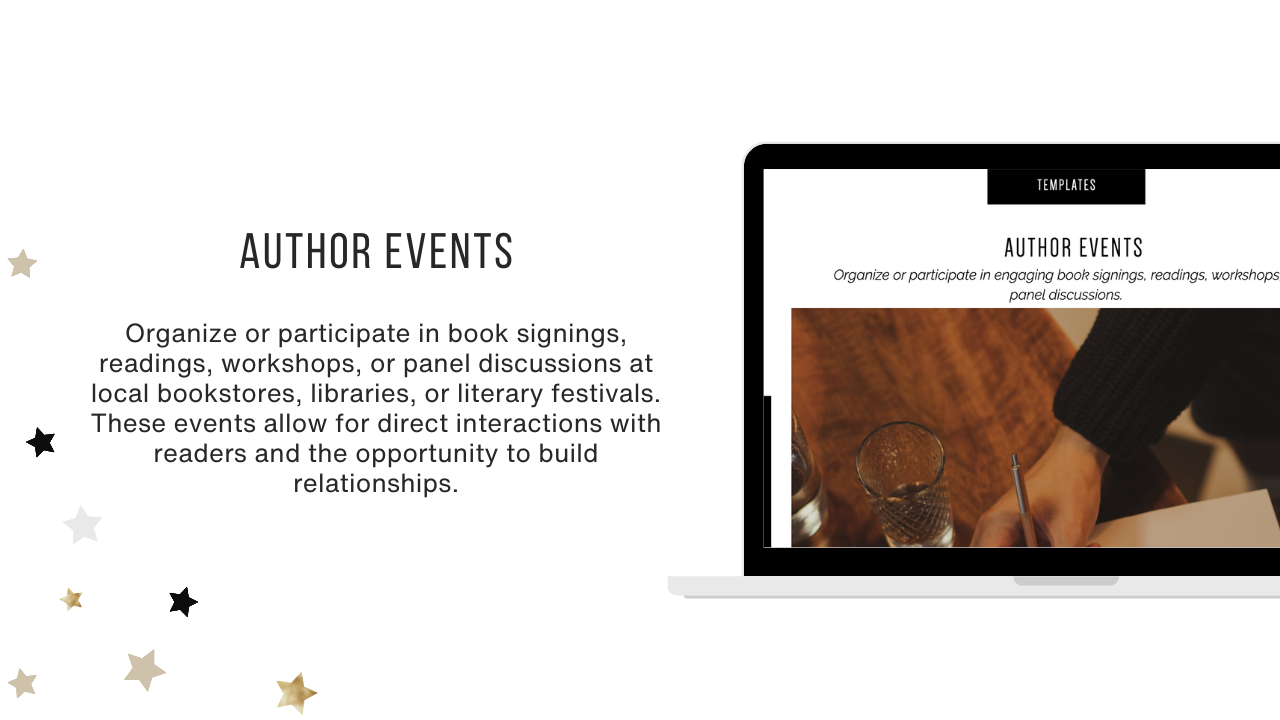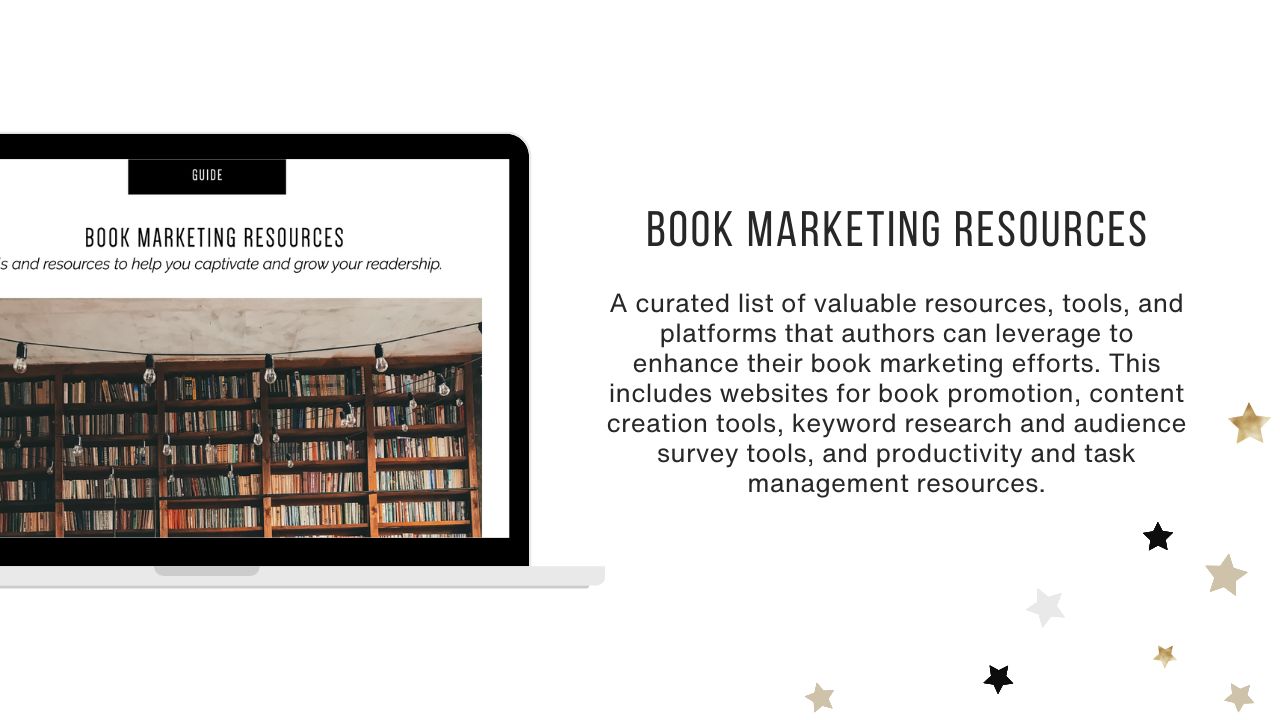 And you get lifetime access*!
Never worry about losing access to The 4-Part System to Define & Attract Your Target Audience content. With lifetime access*, you can come back to the program anytime you need to freshen up on your audience-building strategies!
*Includes all course updates for the life of the course so that you always have the most up-to-date branding, marketing, and reader growth strategies at your fingertips.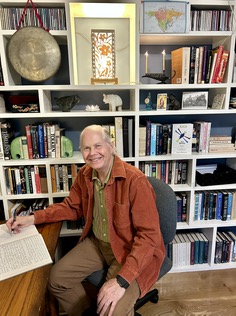 "For ten years, Kimberley's guidance for authors has been my anchor. Her clear, user-friendly articles and step-by-step guides were my lifeline when I self-published my first book. Recently, I had the privilege of personal coaching with her, and the experience exceeded all expectations. Kimberley's adaptability, extensive insights, and unexpected generosity reshaped my marketing approach. With her invaluable help, my intricate fantasy series, '1001, The Reincarnation Chronicles,' has found new life, and I'm thrilled to continue the journey with her unwavering support."
- Stephen Weinstock, 1001, The Reincarnation Chronicles
Why I created this 4-part system...
Through years of consulting and coaching, I witnessed authors struggling to connect with their ideal readership, unsure of who their target audience was and how to effectively reach them. Their desire to stand out, build a loyal readership, and navigate the complexities of book marketing fueled my passion to provide a solution.

This course was meticulously crafted to empower authors like you with the knowledge, strategies, and support needed to define and attract your target audience. By gaining clarity on your readership, creating a powerful author brand, and fostering sustained reader engagement, you will experience a transformative shift in your writing career.
With my guidance and the comprehensive resources provided, you will be equipped to make a profound impact with your work, establish a loyal community of readers, and achieve the success you envision as an author. Together, we will overcome the obstacles and unlock the full potential of your writing journey!
How is The 4-Part System different?
By offering a holistic approach, practical implementation, expert guidance, and a results-oriented focus, The 4-Part System to Define & Attract Your Target Audience delivers a unique and differentiated experience for authors.
Simply put, I've filled in the gaps! I've noticed what pieces were missing for authors who continued to struggle, and I've gone one step further by diving deep into the foundational aspects of building a community and a business around your writing.
I go beyond traditional courses, providing you with the tools, support, and knowledge you need to stand out, connect deeply with your readers, and build a thriving and loyal readership for the long term.
How do I know if this 4-part system is right for me?
This course is for:
Aspiring Authors: If you are an aspiring author looking to lay a strong foundation for your writing career, this course is perfect for you. It will help you define and attract your target audience from the start, giving you a competitive edge as you embark on your writing journey.

Published Authors: If you have already published books but are struggling to connect with your ideal readership or want to enhance your marketing strategies, this course is tailored to your needs. It will provide you with the insights and tools necessary to refine your author brand, engage your audience, and increase your book sales.

Fiction and Non-Fiction Writers: Whether you write fiction or non-fiction, this course is suitable for both genres. The principles and strategies taught can be applied to any type of writing, enabling you to effectively define and attract your target audience regardless of the subject matter.

Authors Seeking to Build a Dedicated Readership: If you aspire to build a loyal and engaged readership that connects deeply with your work, this course is designed with you in mind. It will guide you in identifying your ideal readers, understanding their desires and motivations, and developing strategies to attract and retain them.

Authors Wanting to Enhance Their Author Brand: If you recognize the importance of a strong author brand in today's competitive publishing landscape, this course will provide you with the tools to develop a compelling brand identity that resonates with your target audience. It will teach you how to communicate your unique value and differentiate yourself from other authors in your genre.

This course is NOT for:
While this course is designed to cater to a wide range of authors, it may not be a good fit for everyone. Here are a few instances where this course might not align with your specific needs:
Authors with Well-Established Target Audiences: If you have already successfully defined and attracted your target audience and have a thriving readership, this course may not provide significant additional value for you.

Authors Seeking Technical Writing Instruction: This course primarily focuses on audience definition and attraction strategies. If you are looking for technical writing instruction or in-depth editing guidance, you may find more suitable resources elsewhere.

Authors Unwilling to Invest Time and Effort: Transforming your writing career requires dedication and effort. If you are not willing to invest the necessary time and implement the strategies taught in the course, you may not experience the full benefits it offers.

Remember, this course is specifically designed to empower authors who are committed to defining and attracting their target audience effectively. If you resonate with the goals and objectives of the course, it has the potential to revolutionize your writing career and help you achieve your dreams.
Have questions? I've got answers for you!
Frequently Asked Questions
Is this course suitable for authors of all genres?
Absolutely! The strategies and techniques taught in this course are applicable to authors across all genres. Whether you write fiction or non-fiction, romance or mystery, this course will provide you with the tools and insights to define and attract your target audience effectively.
What if I don't have a published book yet? Can I still benefit from this course?
Yes! In fact, this course is designed to help authors at all stages of their writing journey, including those who are yet to publish their first book. By gaining a clear understanding of your target audience and implementing effective strategies early on, you'll set a strong foundation for your writing career and maximize your chances of success.
Can't I figure this out on my own?
It's true that some authors may attempt to navigate the process of defining and attracting their target audience independently. However, without expert guidance and proven strategies, it can be a daunting and time-consuming journey filled with trial and error. By investing in this course, you'll gain access to a structured system, personalized support, and insights from a marketing and branding specialist, saving you precious time and accelerating your progress toward success.
I'm not sure if I have the time to dedicate to this course.
I understand that you have a busy schedule as an author. However, investing time in this course will ultimately save you time in the long run. By following the structured modules and actionable steps, you'll streamline your efforts, avoid common pitfalls, and gain the clarity needed to make focused decisions that propel your writing career forward. The course is designed with flexibility in mind, allowing you to learn at your own pace and fit the lessons into your existing routine.
How long will it take to complete the course?
The course is self-paced, allowing you to learn at your own convenience. The duration may vary depending on your individual pace and the time you can dedicate to the course. On average, most participants complete the course within 3-5 weeks. However, you will have lifetime access* to the course materials, allowing you to revisit and reinforce the concepts whenever needed. (*The lifetime of the course.)
What if I am unhappy with the course?
I'm confident in the quality and value of this course. However, if you find that the course doesn't meet your expectations within the first 14 days of enrollment, simply reach out to me via email, and I will promptly process your refund. Your satisfaction is my top priority.
If you've made it this far...
There is something inside of you saying it's time!
What if one module in the 4-part system changes your entire writing career?
What if one lesson gives you the clarity you've been searching for?
What if one template or worksheet frees up valuable time in your schedule so you can spend more time writing?
What if this program completely changes your life by allowing you to pursue your passion and the career you desire?
What if you're able to impact hundreds with your writing?
Do you think you owe it to yourself to explore what's possible?
Your Instructor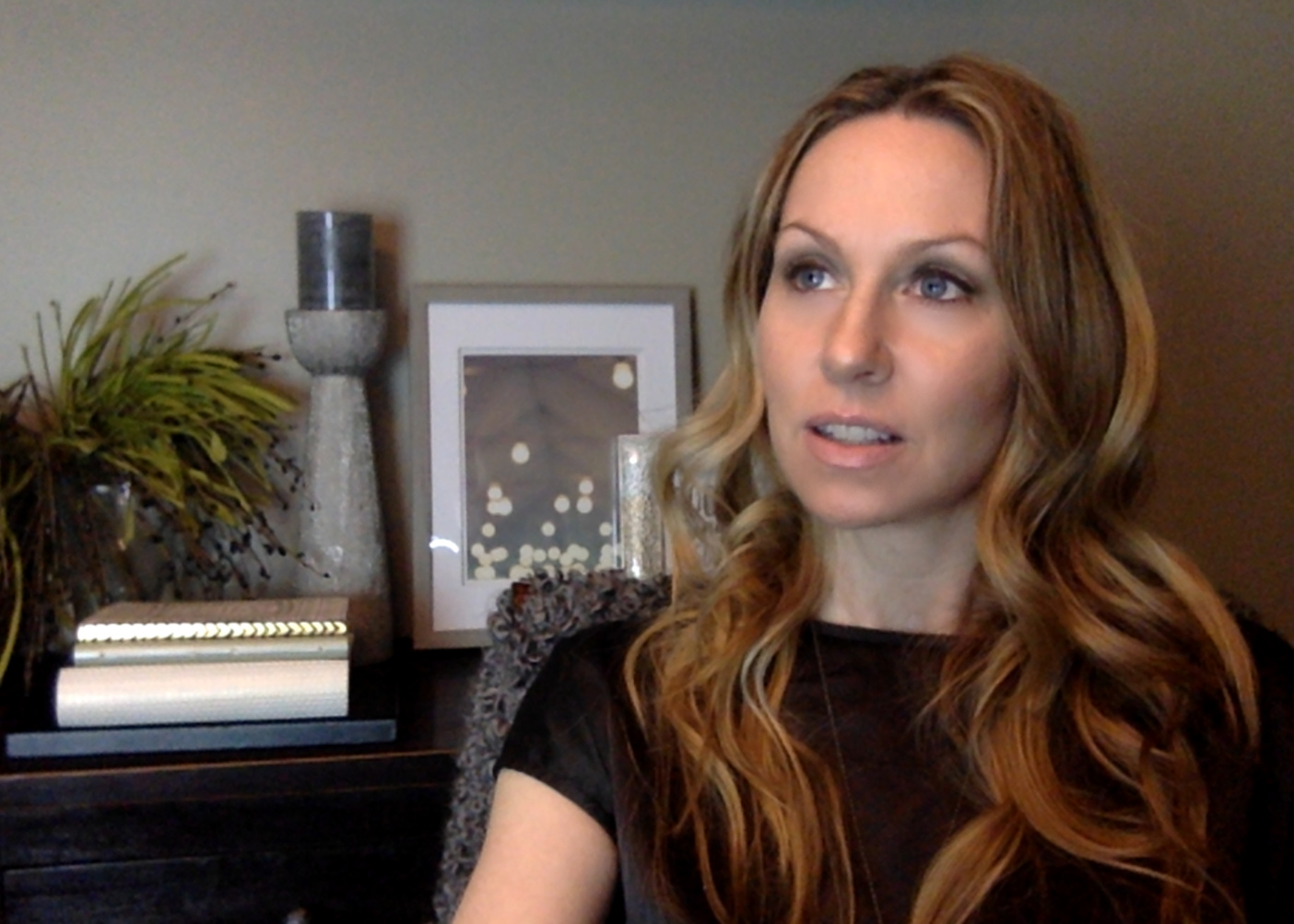 Kimberley Grabas is a Canadian writer and the founder of YourWriterPlatform.com – a site where she provides writers with the resources, tools and inspiration they need to build their platforms, engage their fans and sell more books.
With degrees in both Business and Psychology, as well as over 14 years in sales and marketing, Kimberley uses her unique mix of skills and experience to help writers promote their work, build community engagement and develop an online presence in a genuine and meaningful way.